Film w/anatoly.org *
cine101 : Film Art : Poetics
mini-page :

Antonioni & Fellini: North vs. South (Italy as mini-model of Europe)

Total Directing

director.vtheatre.net

... Fellini Online [nice idea]

my mini-review for amazon:

After two deaths at the end of July (Bergman and Antonioni) one more appreciates the revolution in film language, which took place in the 1960s. Fellini has a different spot in this era of Film-Becoming-Poetry. In near future his dicoveries would be valued no less than Eisenstein's or Vertov's. In many ways Amarcord (and Rome) is more sofisticated than 8.5, which is constructed around plot (last cry of modernism), when the PoMo (late) Fellini is focusing story around thought-feeling, that is a true existential EVENT. Is possible for a requiem to be humorous?
Dante called it "Divine Comedy" ...
I hardly know any episode that doesn't belong to the poem... I think it is a philosophy piece and, maybe, should be viewed as such.

film.vtheatre.net/masters :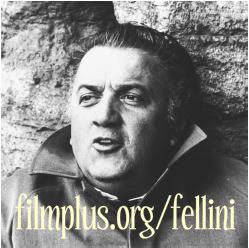 ... fellini.ru ?
---
2008 : my webpages = my scrap/note/book + cine101

topics : filmstudy * film-north blog * After 2009 * Contribute -- tarkovsky.wetpaint.com and LUL -- ethio.wetpaint.com


dir.txt

fellini : online
fellini pages & italian cinemawiki
...

films: references/credits/data/info

fragments = topic-selected

[ scripts ]

"stills only" : FELLINI picasa album [ right table ] -- sub-album?

storyboards

notes: collect ALL Fellini links, references, bibliography (from main links, biblio, ref and etc.)
...

bar : images * photobucket.com/cinema & photobucket.com/film [ in addition to picasa and flickr ] www.kickapps.com/film-north [ 0 ] [ 1 ] [ 2 ] [ 3 ] knol.google.com/k/anatoly-antohin
2008 Theatre UAF Season: R/G are Dead


Copyright © 2007 by filmplus.org. Permission to link to this site is granted.

Film DIRECTORS amazon

film-north home: new * intro * appendix * links * references * books * biblio * guide * list * faq * notes * map * help * bookmarks.bks + my bookmarks (film) * bloglines.com/public/anatolant * archive * keywords * swicki * filmstudy clips * directing videos * flickr: film-art * domains * virtual theatre domains * clips * store * filmmaking: submit URL * u21.us * diggo [ new ]

director.vtheatre.net & directing.filmplus.org

anatoly2.0 : Anatoly XXI * Webman's * Anatoly ALL * film * theatre * feeds * links * anatoly.ru * bloglines * myLibrary
keys.txt -- anatoly.live.com
profile.to/anatoly & Anatoly Antohin